Tide Construction installs last module on world's tallest modular tower
Last module arrives to complete world's tallest modular residential building in south London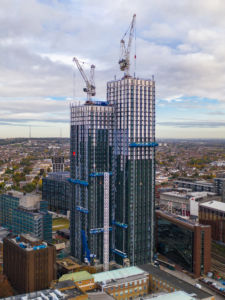 UK-based developer installs final module in 44-storey tower, only 35 weeks after first module was installed
Scheme delivering 546 rental apartments
Delivered in half the time of a traditional skyscraper, thanks to efficiencies of manufacturing homes in a factory
Croydon has given birth to world famous models, musicians and artists including Kate Moss, Stormzy and Tracey Emin respectively. Now, it is home to one of the world's greatest feats of engineering as the tallest modular building on the planet nears completion in south London.
Developer Tide Construction, which is developing the project on behalf of Henderson Park and Greystar, last week craned into place the last of 1,526 modules which have been assembled on site in Croydon to create two towers measuring 44-storeys and 38-storeys.
The 136m scheme – equivalent to the London Eye – will house 546 'Build to Rent' homes that will be managed by Greystar. By manufacturing the buildings inside a controlled factory environment, together Tide and Vision Modular Systems, Tide's offsite manufacturing company, will complete the project in just over two years – half the time it would have taken using traditional methods of construction.
Vision Modular Systems' factory, in Bedford, just outside of London, manufactures apartments on a production line, assembling fully completed modules, similar to how cars are created. The modules are fully completed internally – including kitchens and bathrooms – and are then transported to site. All of the apartments that roll off the production line are fully certified and accredited, backed by the UK's leading certification bodies, to ensure that every home is fundable, mortgageable and insurable.
Britain's success building homes in factories will be welcomed as the country looks to establish its credentials as a world-leader in engineering and manufacturing. And it comes a couple of weeks after housing minister Esther McVey told MIPIM UK, a property conference, that Britain needed to "become the world leader in modular housing within the next 10 years." Tide, however, believes that the UK should already be proud of its accolade as the global leader in modular housing as it is now home to three of the world's tallest modular buildings.
Some of the main benefits of modular housing include:
Speed – homes can be completed in half the time and arrive on site 95 per cent complete with pre-installed kitchen, bathrooms, plumbing and wiring. Following the installation of modules, it took fifty workers just a week on each of the towers' levels to complete finishing touches such as floor fitting and painting.
Sustainability – homes built in factories are twice as energy efficient as the average UK home because the factory environment means modules are more airtight than homes builttraditionally. Digital technology allows precise estimations for materials, cutting waste by 80 per cent, with 80 per cent less traffic movements to the site, resulting in carbonemissions savings of approximately 50 per cent compared to traditional construction.
Skills – production lines enable companies to take apprentices and train them on specific tasks with high levels of quality. Modular manufacturers tap into different types of skills allowing different trades to seamlessly work together.
John Fleming, Chairman of Tide Construction and Vision Modular Systems, said:
"While we're proud to have delivered the world's tallest modular tower, this isn't about breaking records, but finding innovative ways to build better, sustainable homes, more quickly. There is a critical window for the planning system to encourage more factory-built homes. Using a production line can offer far greater certainty around quality and cost. What we, as developers, need is far greater certainty from the planning system itself – ideally with a presumption in favour of consent where a scheme meets the main demands around size and use."
Christy Hayes, CEO of Tide Construction, said:
"Construction of the towers began in February 2018 after planning consent was gained back in November 2017. From there, the 1,526 modules were stacked on top of a concrete podium linking both towers at ground floor level. Once the concrete cores of the two towers were complete, Vision Modular Systems' pre-fitted, pre-plumbed and pre-wired modules began arriving on site. We successfully installed the last module in just 35 weeks – 3 weeks ahead of an already tight schedule – after the first was craned into place. As we reach this exciting milestone, already 80% of the glazed terracotta façade has also been completed.
Tide Construction has extensive experience delivering high quality developments across the residential, student accommodation and hotel sectors. It currently has over 1,800 residential homes under construction across the Greater London area, over 5,000 student accommodation units and has delivered hotels for the Premier Inn and the Four Seasons.
Councillor Paul Scott, Croydon Council's cabinet lead for planning and regeneration, said:
"With a thriving tech sector and great leisure offers such as Boxpark and Fairfield Halls, Croydon's transformation is ongoing. We're delighted to be a global leader in modular housing and are incredibly proud to have supported Tide Construction deliver this record-breaking and award-winning development in under two years."
Nick Weber, Founding Partner of Henderson Park, said:
"Croydon has a long history as a strong business, retail, leisure and residential destination and the town is currently enjoying a real renaissance driven by significant sums of inward investment and infrastructure works. This programme of investment will further increase demand for homes and 101 George Street, with its fast modular building methods, will soon deliver much needed supply of high quality rental accommodation across all levels of affordability."
Mark Allnutt, Senior Managing Director at Greystar Europe, said:
"As the global leader in rental housing, we are delighted with the quality and remarkable pace of delivery of 101 George Street which will have gone from conception and planning to construction in just over 3 years. Our Build to Rent developments here and across London represent our commitment to finding innovative solutions to help to address London's housing shortage. Croydon is emerging as an economically-vibrant and culturally dynamic centre and it's going to need high-quality rental homes to support this stellar growth. 101 George Street, as well as claiming the title 'tallest modular tower in the world', will set a new standard for rental accommodation in south London, with fantastic facilities for residents as well as civic space for the local community."
Simon Bayliss, Managing Partner at HTA Design LLP, said:
"What Tide and HTA have achieved at 101 George Street is a perfect example of what modular construction can do to deliver housing at speed, without compromising on architectural quality. Modular housing is set to play a major part in addressing the UK's housing shortfall but cannot do so without a concerted effort to reform the planning system. The current planning process doesn't provide the certainty and stability required to scale up modular construction. If we are to take the industry into a new age of digitisation and innovation, central and local government must bring planning into the 21st century."