Delivering an overbuild project with some innovation
18 June 2020
Part of the series of webinars on The Linear Infrastructure Overbuild Guide
4pm-5pm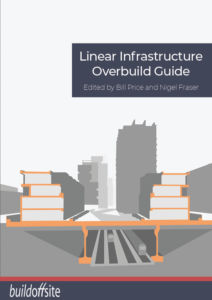 Just doing things the way we always have is unlikely to maximise the opportunities that this sector offers. The offsite construction community tends to be quite innovative. This webinar provided both an overview of some of their recent innovations relevant to this context. It also included four short briefings on specific aspects that help:
Reduce the number of expensive infrastructure processions
Ensure that the structure has a very long, low maintenance service life
Offer enhanced fire protection
Manage accelerated project delivery
Presentations will included:
– Overcoming overbuild project management challenges – Daniel Richards, Mace
– Innovations for overbuild – overview,  Nigel Fraser, Buildoffsite
– A new approach to project management, Ali Mafi, Lean Thinking
– Fire-proof SIPS, Joanne Booth, Lucideon
– Products for low carbon whole life resilience, Graeme Jones, C-Probe Group
This will be followed by a panel Q&A session for the audience to participate.