Work completes on University Hospital of North Tees £14M Energy Centre
NG Bailey has completed work on a new £14m energy centre at the University Hospital of North Tees, in Stockton, marking a fundamental milestone in the regeneration of the site.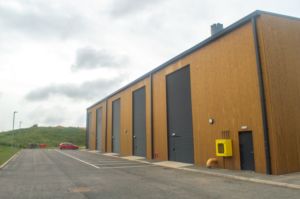 The new centre is a key part of the North Tees and Hartlepool NHS Foundation Trust's investment plans, after it secured £25m to renew its ageing infrastructure. Managed by NTH Solutions (the Trust's subsidiary and provider of estates and facilities services) was proud to select NG Bailey as its principle contractor after a rigorous selection process.
The energy centre is part of the Trust's ongoing Sustainability and Transformation Plan to provide capacity for future development on site.
Sitting within the busy existing hospital estate, the centre houses a new primary intake substation N+1emergency generators; a combined heat and power (CHP) unit; three steam boilers producing 5,600kg of steam per hour; new water storage tanks; oil storage tanks, as well as associated mechanical and electrical infrastructure.
Acting as Principle Contractor, NG Bailey led on the superstructure and forming of the energy centre building, as well as two new reinforced-concrete below-ground walkways to link the new energy centre into the existing hospital infrastructure.
The engineering and services firm also completed a major upgrade to the electrical infrastructure with the creation of three new substations, and replacement of the high voltage (HV) network cabling and then new low voltage (LV) electrical distribution to re-feed the various switchboards and distribution panels around the site.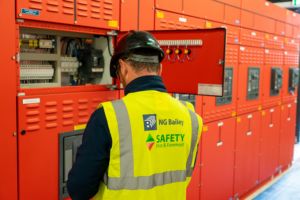 The project also included the provision of 250kW of solar voltaic panels on the roof of the energy centre which are anticipated to generate 5-10% of the electricity that the hospital site requires.
Jon Crank, Pre-contract Manager in NG Bailey's Engineering division, said: "The completion of the infrastructure upgrade is a fundamental milestone in the regeneration of the University Hospital of North Tees site.
"The new services infrastructure and energy centre we've developed will be more reliable, it utilises modern and more efficient plant and equipment, reducing the Trust's energy consumption and carbon footprint.
"More importantly, we've worked closely with NTH Solutions and the Trust to ensure the works have been completed on time and without any disruption to the on-going operation of the hospital."
To remove the most labour-intensive works from the hospital site, NG Bailey manufactured major elements of the internal services off-site, at its specialist assembly facilities in Bradford, saving more than 5,000 hours of labour on the site and reducing health and safety risks.
Steven Taylor, Assistant Director of Estates and Capital, NTH Solutions said: "We selected NG Bailey to work with us on this project because they have a keen appreciation for our values – putting patient experience and safety first. Together, we developed creative, flexible solutions that ensured continuity of service. I'd like to personally thank the team for going the extra mile when needed and we look forward to working together in the future."
The project in numbers:
35,000 tonnes of spoil earth removed
2,500m2 of concrete
200 tonnes of equipment
180 tonnes of steel structure
12,000 meters of L.V sub-mains
68 planned shutdowns to transfer from the existing to the new supplies
2 x 2500kVA generators to provide N+1 emergency power, serving 6 new sub-stations via 1.4km of new 2 of new 2,500Amp busbar
1 x 1750kVA Combined Heat & Power Unit (CHP)
3 x steam boilers, producing 5,600kg of steam per hour
Installed water tanks storing 220,000 litres of water
Installed oil tanks storing 80,000 litres of oil
Design team: P+HS Architects; RPS Structures & MEP