What does the "Linear Infrastructure Overbuild Guide" aim to achieve?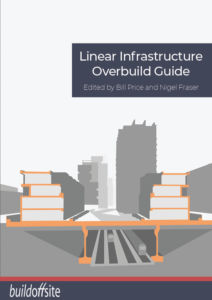 Our Linear Infrastructure Overbuild Guide aims to do 3 things.
Make more potential sites viable, creating homes and offsite project opportunities in great places

Convince stakeholders to consider how to unlock more of this potential

Help more developers and suppliers be involved with infrastructure overbuild.
Here we outline the first of these themes.  The report itself provides much more detailed and practical information and can be downloaded here.
Viable, transformative, place making
Many of the potential locations for such projects offer great opportunities to transform and reconnect areas within our cities that have been blighted by railway corridors and major roads for more than a century.  Examples of how this could be done are creatively described by leading architects.
There is a perception that over-build sites, particularly over railway lines, make complex and risky projects, with expensive civil engineering works to provide the foundations and modify the railway's signalling systems etc.
This Guide provides several routes for reducing the cost, both capital and whole life, of the supporting structures. These range from careful location of the mass above, the reduction of that mass, suitable types of accident containment and buildable support structures and how they can be monitored and protected for assured longevity, i.e. "structural healthcare". This is the outcome of collaboration between renowned architects, structural and corrosion engineers.
It also considers how to manage the initial risks concerning what is already "in the ground" and who is best placed to manage these risks. 
The Economics chapter adds benchmarks based upon real projects and studies. And there is still more scope for optimising this, as the Buildoffsite Residential Hub plans to explore in 2020 with further consideration of the accommodation aspects.
Look out for the Buildoffsite Overbuild Conference that will be launched once Covid-19 is behind us.  In the mean time, why not download the Guide and get ahead of the game.