NG Bailey announces strong results for the year ended February 2020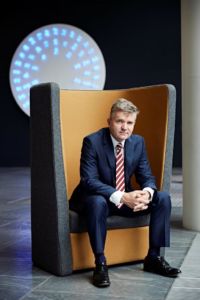 Reporting a strong financial year, NG Bailey said its ongoing strong financial position, including a balanced pipeline of work across sustainable and resilient sectors, gives it confidence for the future, in spite of the significant challenges of COVID-19.
Chief Executive of NG Bailey, David Hurcomb, said: "With a strong pipeline of opportunities and continued commitment from the Government to defence and infrastructure spending, including exciting emerging sectors such as battery storage and manufacture, NG Bailey is confident it is structured to get through the current crisis and return to the levels of profitability of recent years in the medium term.
"We are well placed to continue to play a significant role in the long-term opportunities across UK defence and infrastructure. These sectors will play an important role in rebuilding the UK economy and are where there is positive Government commitment."
For the year ended February 28, 2020, NG Bailey has reported a 3% increase in turnover to £573m, with underlying operating profit also increasing from £19.4m to £19.8m.
Following the outbreak of COVID-19 in March, NG Bailey reacted quickly, adapting its business strategy in response to the wider situation, working with employees, customers, and supply chain partners to ensure safe new working arrangements were introduced.
From an operational perspective, the majority of the Group's projects and sites have remained open safely, in-line with Government guidance and in collaboration with its partners and stakeholders. Work continues to safely remobilise activities that were paused.
David continued: "COVID-19 has undoubtedly brought significant challenges and like all businesses we face a new reality. We are experiencing reduced revenues currently and expect this to continue for some time as investments and spending by customers is deferred. "As a result, we sadly have had to reduce our headcount by around 8% to match this lower workload. However, despite the expectation that ongoing disruption from COVID-19 and Brexit uncertainties will continue to make trading conditions very tough for some time, we are confident that we will emerge stronger.
"We believe our strategy of achieving a balance in the business across our Engineering and Services divisions, coupled with our pipeline of work and our strong balance sheet, puts us in a strong position to face any challenges that lie ahead."
Both NG Bailey's Engineering and Services divisions have played key roles in delivering a wide range of projects to support the UK Government's response to the pandemic, including essential work on the UK's Nightingale Hospital programme.
David added: "I am proud of the response of our people to the pandemic, working together as one team to adapt and introduce new ways of working during these challenging times. I would like to thank them all for their ongoing hard work and dedication."