McAvoy Wins Place on New £500m Public Sector Framework
Crown Commercial Service (CCS) has awarded four lots on its new £500m Modular Building Solutions framework to The McAvoy Group. CCS is the largest public sector procurement organisation in the UK.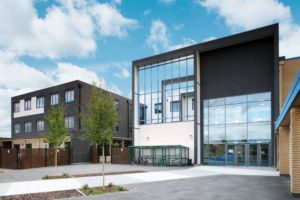 Under the new agreement, McAvoy has secured the opportunity to provide bespoke modular buildings and interim hire facilities with a particular focus on education and healthcare.  The framework also covers public buildings such as facilities for the emergency services, MOD, community centres, offices, care homes, student accommodation and other residential schemes. It will operate for the next four years and covers England, Scotland, Wales and Northern Ireland.
This is the fourth consecutive CCS framework that McAvoy has been awarded and it follows a rigorous independent assessment process.
The Group was successful in winning a number of major free school projects under the previous CCS modular building contract which were built offsite, including the award-winning £20m Lynch Hill Enterprise Academy in Slough and Goresbrook School in London – an £18m all-through school taking children from nursery to sixth form. 
Commenting on this latest framework appointment, Eugene Lynch, Chief Executive of The McAvoy Group, said, "Long-term frameworks are very important to our business and are a major source of new contracts, helping us to continue to grow sustainably. We look forward to working with CCS over the next four years."
"The advantages of offsite construction for new public sector facilities are proven and clear. We can reduce the build programmes by up to 50 per cent for earlier occupation and offer significant quality improvements. Our approach also provides much greater certainty of delivery on time and on budget. These factors are very important for all public sector clients – from schools and hospitals to the emergency services, universities and local authorities."
In addition to the Group's permanent modular building solutions which have a design life of up to 60 years, the provision of high-quality interim accommodation for hire allows schools, hospitals and other organisations to react quickly to changing local needs. McAvoy can provide decant facilities for redevelopment projects and buildings to help meet short-term peaks in service demand, such as additional classrooms.
CCS plays an important role in helping the UK public sector save money when buying common goods and services. It uses its commercial expertise to help buyers in central government and across the wider public sector to save time and reduce the cost of procurement.
For further information about permanent and interim modular buildings, visit www.mcavoygroup.com, call 028 8774 0372 or email info@mcavoygroup.com.