McAvoy appoints Chief Executive and Managing Director
The McAvoy Group, one of the leading offsite construction specialists in the UK and Ireland, has appointed its first Chief Executive and a new Managing Director, further strengthening its management team.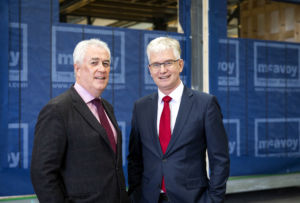 Eugene Lynch has taken up the position of Chief Executive, having held the role of Managing Director at McAvoy since 2007. He will lead the Group's expansion into the residential sector and will spearhead the investment, development and launch of a new offsite housing factory.
Mark Lowry has joined McAvoy as Managing Director, taking full responsibility for the existing business and the continued delivery of its strategic growth plan. He has more than three decades of experience in leading highly successful companies in the construction industry. He was a Group Director of CRH, the second largest building materials group in the world, which employs 90,000 people in 3,700 locations and has sales of €26.8 billion.
Prior to that Mark was Managing Director of Northstone, the largest building materials and construction group in Northern Ireland, which includes Farrans Construction.
Commenting on these new board appointments, Orla Corr OBE, Chairperson of The McAvoy Group, said, "This is a really exciting phase in the history of the Group. We have an ambitious growth strategy in place which includes plans to double the size of our existing business by 2025. This will be achieved by retaining and expanding our market share in the healthcare, education, infrastructure and commercial sectors and by growing our modular hire business."
"We are very pleased with how the market has received our launch into the offsite housing sector, which has generated a lot of interest and commercial opportunities for the business. Under Eugene's leadership, we aim to be manufacturing around 1000 new homes a year by 2023 under the Smart Living brand."
"As Managing Director, Eugene has made an enormous contribution to the Group over the last 12 years, providing a solid foundation for the next stage in our growth. We are delighted that he has taken up the new position of Chief Executive."
"Mark will be a tremendous asset to the Group as we implement our strategy throughout the UK and Ireland. He brings a wealth of construction and leadership experience to his new role which will be invaluable as we take our industry-leading approach to offsite to the next level. We look forward to welcoming him to the McAvoy Board."
Speaking about the objectives for the business, Mark Lowry said, "McAvoy has made impressive strides in recent years and is helping to change the face of offsite construction in the UK and Ireland. The Group has successfully expanded into new sectors and is winning and delivering a really diverse portfolio of projects. It also demonstrates strong commitments to its customers, its employees and the communities in which it operates."
Mark is a graduate in civil engineering, a Chartered Civil Engineer, a Fellow of the Irish Academy of Engineering, a Fellow of the Chartered Institute of Building (CIOB), and a Fellow of the Institution of Civil Engineers (ICE).
The McAvoy Group is an independent, family-owned business and an established principal contractor. It has been providing bespoke offsite solutions and interim modular buildings for almost 50 years.
McAvoy delivers fast-track construction projects of the highest quality and in up to half the time for the health, education, residential, commercial and infrastructure sectors, with less impact on the environment and greater assurance of completion on time and on budget.
For further information, visit www.mcavoygroup.com, call 028 8774 0372 or email info@mcavoygroup.com.