Mayor of London launches new app to speed up capital's homebuilding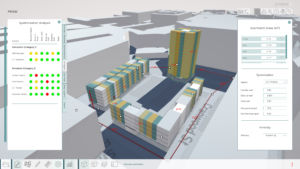 London's homebuilding revolution is a step closer today after the launch of a new, freely available app aimed at accelerating the design and construction of high-quality factory-built homes.
London needs at least 50,000 new homes a year, but traditional construction methods cannot meet the scale of this demand. In 2017 the London Assembly Planning Committee called for better design guidance to enable the wider adoption of Precision-manufactured homes (PMH), which can be built twice as fast as conventional developments but to a far higher standard.
The PRISM housing design app has been developed by tech-led design practice Bryden Wood, building on extensive work undertaken by residential consultancy Cast and in collaboration with the Mayor of London, to bring together central and regional government, funders, developers and manufacturers and drive a step change in productivity and quality in homebuilding.
The free and easy-to-use app combines the Mayor of London's spatial planning rules with PMH manufacturers' expertise to allow architects, local authority planners and developers  to quickly determine viable PMH options for their site. This accelerates the early design phase and allows designers to focus on the quality of the built environment.
London is the first city in the world to make a freely available app of this kind, sharing PMH expertise and leveraging technology to revolutionise the design process. Open sourcing the app will encourage greater collaboration and means that this innovation can be used and further developed by the global design community.
The Mayor of London, who has championed the modernisation of the construction industry, co-funded the development of the new app alongside Transport for London, L&Q, Legal & General Modular Homes and Greystar.
James Murray, Deputy Mayor for Housing and Residential Development said: "We need to build far more housing in London – and particularly more council, social rented, and other genuinely affordable homes. Even if we had all the investment and powers we need, traditional construction techniques will only take us so far. That's why the Mayor has been working with key industry players to develop 'PRISM' – a new housing design app, which is the first of its kind in the world, and which will give a vital boost to the precision manufacturing of homes." 
Jami Cresser-Brown, Architecture Director, Bryden Wood said: "Technology has revolutionised so many sectors from finance to automotive and it is time for the construction sector to do the same. This is the only way that we will be able to meet demand for housing and other social infrastructure. The scale of the challenge is so great that we will only succeed if we work together. We have deliberately opted to make this app open-sourced so that anyone can play a role in the design process and its next stages of innovation."
Mark Farmer, Founder and CEO, Cast said: "Modernisation of London's construction industry is vital if it is to overcome growing challenges in terms of lack of resourcing, skills & training, diversity and poor build quality. This app will enable designers to concentrate on aesthetic quality and placemaking, whilst allowing greater consideration of manufactured building systems and components that can make the homebuilding process more productive and predictable, delivering better outcomes for London."
James Pargeter, Senior Director Projects, Greystar Europe said:"As the global leader in rental housing, the natural incentive to choose precision-manufactured construction methods was clear to us. It means we can deliver much-needed, consistently high-quality new homes significantly faster. In addition, we can also reduce construction traffic and waste by up to 80%, benefiting the whole neighbourhood. PRISM will enable people to evaluate their PMH options much more quickly for specific sites, and it should encourage greater knowledge-sharing and collaboration across the whole residential spectrum."