Mark Farmer joins AEDAS Homes in Madrid for a discussion on the challenges facing the construction industry and the advantages of building offsite
Key messages included how offsite construction can attract a younger generation of workers and the role of governments in supporting the industrialisation of homebuilding
During the event, AEDAS Homes presented 'The Industrialisation of Homebuilding', a white paper for the Spanish market
Madrid, 10th September 2019 – Mark Farmer, CEO of Cast Consultancy and author of Modernise or Die, participated in 'Industrialised Homebuilding: The New Competitive Edge', a conference hosted in Madrid by AEDAS Homes, one of Spain's leading residential developers, and the Urban Land Institute of Madrid.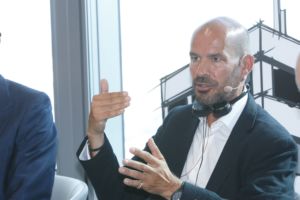 The event was organised to present a white paper jointly authored by AEDAS Homes and ULI Madrid entitled 'The Industrialisation of Homebuilding', which outlines the advantages of offsite construction for the residential market and is the first publication of its kind in Spain.
During the discussion, Farmer shared his views on the current situation of construction in the UK with the roughly 200 sector professionals in attendance. He drew parallels between the challenges faced by the construction industry there and in other developed economies with those in Spain, highlighting the fact that the confluence of a number of challenging 'megatrends' means that the time is now right for offsite construction to be successful.
Chief among these challenges, he explained, are 'big risks related to labour and resource', including a critical shortage of construction workers, due to an ageing workforce and the kind of jobs the younger generation is seeking, changing business models, and demands for higher quality, which will 'increasingly drive change and bring industrialised construction to the fore'.
Farmer also reflected on the inefficiency of the traditional construction industry and the growing political support to reduce its carbon footprint, as well as the vital role that both central and municipal governments must play in order to make investing in modern methods of construction worthwhile and attractive.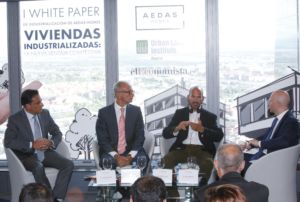 Luis Garcia, Director of Construction at AEDAS Homes, and Angel Fernandez, the company's Offsite Manager, also took part in the conference.  AEDAS Homes is the first residential developer to invest heavily in offsite construction in Spain and by year end will have 180 modular units on the market.