Core Innovation Hub to transform UK construction
TRANSFORMING CONSTRUCTION ALLIANCE SECURES £72 MILLION GOVERNMENT FUNDING TO DRIVE INNOVATION AND BOOST UK CONSTRUCTION PRODUCTIVITY
An alliance of experts specialising in digital, manufacturing, has been awarded leadership of a new national Hub to drive innovation and technological advances in the UK construction and infrastructure sectors.
Following a nationwide competition, Innovate UK has awarded £72 million to the Transforming Construction Alliance to deliver a national Core Innovation Hub, a key element of the Transforming Construction programme. The alliance brings together the specialist expertise of the MTC (Manufacturing Technology Centre), BRE (Building Research Establishment) and the CDBB (University of Cambridge Centre for Digital Built Britain).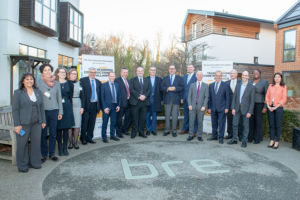 Announcing the award at BRE Watford on 30 November 2018, Business & Industry Minister Richard Harrington said "We have the opportunity to revolutionise construction in the UK and the Core Innovation Hub will help us build smarter, greener and more efficient buildings much faster and cheaper than we do now.
"From the introduction of virtual reality to off-site manufacturing, our modern Industrial Strategy, is helping the UK construction sector to develop new techniques and skills – modernising the sector and delivering the homes and buildings our nation needs."
Supporting the announcement, Exchequer Secretary to the Treasury Robert Jenrick said "Our manufacturing industry is vital to the UK, contributing billions to the economy every year.
"This new fund will see it partner with our construction and digital sectors to revolutionise the way we develop crucial infrastructure. It will enable us to build in more efficient and cost-effective ways, boost productivity and ensure we are fit for the future."
The Core Innovation Hub will be the catalyst to transform the way buildings are designed, manufactured, integrated and connected within the built environment to create high-performing buildings and infrastructure with strong levels of safety, quality and energy performance. It will also support collaboration to develop and commercialise digital and manufacturing technologies for the construction sector.
The Industrial Strategy Challenge Fund will strengthen research and innovation in science and business in the UK. Its Transforming Construction programme aims to support £600 billion worth of infrastructure and construction projects over the next decade, creating new processes and techniques, including standardisation of modular components for manufacture.