Buildoffsite's Rail Hub publishes Linear Infrastructure Overbuild Guide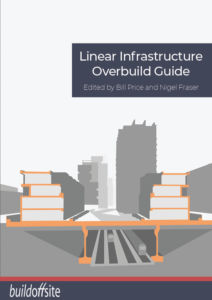 How could you build a quarter of a million homes for London?
The Buildoffsite Linear Infrastructure Overbuild Guide is ready to help.
Inspired by WSP's Out of Thin Air reports it aims to do 3 things.
Make more potential sites viable, creating homes and offsite project opportunities
Enable stakeholders to consider how to unlock more of this potential
Help more developers and suppliers to be involved with infrastructure overbuild.
This project is the sort of collaboration that is at the heart of Buildoffsite. It covers both civil engineering and residential aspects. Lead authors from WSP, Hawkins\Brown, Sheppard Robson, IFPI, Meinhardt and Mace, supported by numerous Buildoffsite members, TfL, HS2 and Network Rail, and other specialists, have created an informative and challenging guide. Edited by Bill Price (WSP) and Nigel Fraser (Buildoffsite) it will provide a basis for an exciting programme of activities to be guided by Nigel McKay in 2020.
To get your copy of the Guide, click here.