Assael becomes employee ownership trust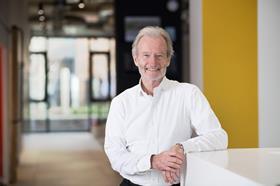 Assael Architecture has given staff a slice of the company, with the firm becoming an employee ownership trust.
The Putney-based practise was founded by John Assael (pictured) and Russell Pedley in 1994, with Assael still sitting as chairman of the firm.
But it has now made all of its 99 staff beneficiaries of the business, allowing them to appoint two trustees from any level of the company to be their voice at the board.
John Assael said the decision had taken "much consideration, and an awful lot of consultation," but would put the future of company into "the hands of those who have built it – our staff".
The move follows the practice's most profitable year on record, with the firm making a pre-tax profit of £812,000 from a turnover of £7.8m in the year to May 2018.
The firm has also appointed Pete Ladhams as its new managing director.
Ladhams originally joined the practise in 2001 as a student and has led on projects including the Clockhouse and Access House – a 491-home scheme in Bromley-by-Bow.
Assael Architecture was named as 'best employer' by Building in 2015, 2017 and 2018.