An Offsite Sector Response to the Government's Construction Playbook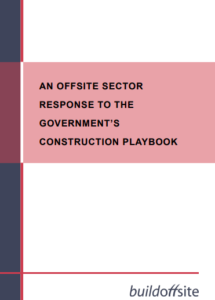 The Construction Playbook, published at the end of 2020, outlines how most of England's public sector construction procurement is going to be carried out in the coming years. It contains a lot of guidance, with focus upon safety, MMC, and whole life cost and carbon optimisation. It also stresses the needs for healthy competition and resilience in supplier organisations. It provides a lot of insight as to how government departments and arms length bodies will be working.
Buildoffsite has produced a response to the Playbook, highlighting how offsite suppliers can benefit from this whilst also challenging the sector to evolve to make the most of the opportunities for both suppliers and clients.