December Direction Group 13th December, Covent Garden
22 December 2017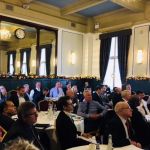 Our December Direction Group focused on Digitally Accelerated Construction: Emerging Technologies and Applications.
You can now view the presentations by our award-winning members here:
Amador Caballero, Wilmott Dixon Interiors
and our presentations here:
Prof. Nick Whitehouse, Buildoffsite and Tim Hall, Buildoffsite
Our summary of the meeting can be found here: Buildoffsite Direction meeting notes 13 December 2017
Our next Direction Group Dinner and Meeting – Developing Skills Around Offsite Construction on the 27 – 28 February will be hosted by TDS at Dudley College. (Member or Invite Only)
More details to come.
Please contact Anna.Whiting@buildoffsite.com with any queries on our events.
View the event and download the presentation