Site visit to new prison development, HMP Millsike
26 April 2023 , HMP Millsike, York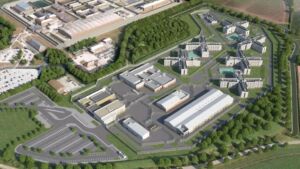 Join us for a visit to the construction site of Britain's newest 'smart' prison, HMP Millsike, designed to house over 1,400 inmates which is being built by Kier opposite the existing HMP Full Sutton.
Background
This visit is part of a rolling programme of Buildoffsite and CIRIA events, webinars and publications focussed on net zero carbon for different construction methods and materials.
Building work started last Autumn on the cutting-edge jail in East Yorkshire which will deliver over 1,400 modern places when it opens in 2025. Designed with security and rehabilitation in mind, the new Category C prison will be equipped with the latest smart technology.
It will also be the first new prison to operate as zero-carbon in the future, with an all-electric design, solar panels, heat pumps and more efficient lighting systems to reduce energy demand significantly.
The new buildings will sit opposite the existing HMP Full Sutton and will be the third of six prisons to be completed as part of the New Prisons Programme, following HMP Five Wells and HMP Fosse Way in Glen Parva, which is due to open this year.
Why attend
Go behind the scenes of the construction of a pre-manufactured concrete structure in progress.
Hear how the site team is applying the lessons learned from a recently completed similar project to manage pre-cast and MEP modules from design to installation.
Who should attend
Buildoffsite members seeking to become part of the supply chain for the Ministry of Justice new prisons programme.
Limited availability – please register online by 10:00 on 19 April 2023.
Agenda
10:00 Welcome, introduction and refreshments
10:30 Construction site visit of HMP Millsike led by Kier
12:00 Networking lunch
13:00 Main contractor and supply chain presentations
Managing pre-cast, MEP modules and digital
Kier, PCE and Crown House
14:25 Closing remarks
Additional Information
Fees
This member-exclusive event is free to attend for all Buildoffsite members. For logistical reasons the numbers are restricted to eight members (one per company).
Places will be allocated to social infrastructure hub members first, and remaining places on a first-come, first-served basis.
Booking
Please register online by 10:00 on 19 April 2023.
If you are experiencing issues registering online or after registration has closed, please contact us on 07933 181 765 or email our Customer Services team.
Important information
No photography or filming allowed during the site visit.
PPE and dietary requirements will be requested in advance.
Joining instructions will be sent ten days and one day before the event.
Notice for new bookings from EU/EEA customers only.
Buildoffsite is currently unable to directly process your transaction if you are purchasing from the EU/EEA region. If you wish to book onto this event please email your request to info@buildoffsite.com and we will respond in the first instance.
Terms and conditions
Click here for details of our terms and conditions that will apply.
Personal data is gathered in accordance with Buildoffsite's privacy policy.
Further information
For further information on Buildoffsite membership and other services, please contact:
Telephone: 07933 181 765
Email: info@buildoffsite.com
Web: www.buildoffsite.com