The Offsite Construction Show 2019
20 - 21 November 2019 , ExCeL London, Royal Victoria Dock, 1 Western Gateway, London E16 1XL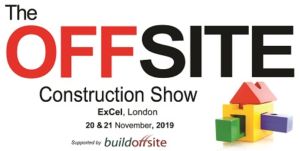 Buildoffsite is proud to support the original offsite show of the year
The 4th Offsite Construction Show received overwhelming support from the offsite industry attracting almost 5,000 attendees who represented every part of the UK's building, construction, design and engineering community, combining to make the UK's national Offsite exhibition a resounding success.
OSCS2019 now in its 5th year will continue to build on this winning formula and will be a great opportunity for networking and learning more about the latest industry trends. With growing support from the government and recent investments going to modern methods of construction there will definitely be more to talk about – do not miss out!
Buildoffsite will be leading a schedule of workshops and seminars looking at key challenges and themes in the sector.
All our members are entitled to 10% discount on exhibition packages. If interested please contact the OSCS team.
Testimonials from OSCS 2018
"We have been glad to exhibit again, at the offsite construction show. It's been a very successful event for us, as we have had a lot of inquires and we look forward to doing it again next year" – David Wallach

"It's been a fantastic show this year, we have met lots of architects and developers and we look forward to being involved next year" – Daniel Leech