Commercial approaches to infrastructure overbuild
04 June 2020
Part of the series of webinars on The Linear Infrastructure Overbuild Guide
10.30am – 11.30am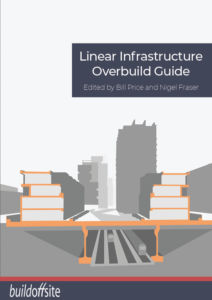 The session will start with a summary of the key commercial aspects to be considered when setting up an overbuild project and how some major projects have been approached. This will be presented by Patrick Hayes of Meinhardt. Bill Price of WSP will summarise an alternative approach taken in Paris.  We will look at the TfL and Network Rail house building targets and explain how they respond to approaches for projects. This will be followed by an open Q&A session with the panel facilitated by Nigel Fraser of Buildoffsite.
Outcomes:
Understanding the approaches used to date on overbuild projects in the UK.
Insight into the knowledge required to approach a project and where to find it.
How things have been done differently in other places.
Hearing about Transport for London's and Network Rail's current thinking.
Some conclusions from the project and potential new approaches.