BOPAS Accredited Manufacturer Forum and Frameclad site visit
14 September 2021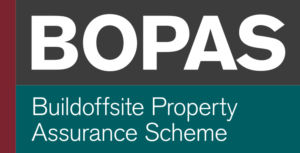 Supported by:

Date – 14th September 2021
Timings – 10.30 – 15.00
Location – The Copthorne Hotel, Waterfront Level Street, Brierley Hill, Dudley, DY5 1UR
As a BOPAS client, we are delighted to invite you to the first BOPAS Forum to update you with our plans and to hear your views.
*Please note this invitation is only for organisations that are BOPAS accredited.
Context:
The Buildoffsite Property Assurance Scheme was launched in 2013 to serve the interests of the Offsite industry and support its access to the mortgage market. Since the launch, the scheme has evolved with the sector being regularly updated to counter negative trends and problem areas as they arose. As the offsite sector matures and moves progressively towards digitisation and automation, there is a recognition that BOPAS should both evaluate and acknowledge the extent to which organisations have developed beyond the baseline accreditation.
The Forum will provide an opportunity to both present proposals to develop BOPAS to support and embrace digitisation and automation, but most importantly it will be an opportunity for the accredited offsite sector to provide feedback on the current scheme and its development.
Within the last year BLP, a BOPAS partner, has withdrawn from the warranty provision and has recently re-entered the market and the forum will provide an opportunity to gain an insight into BLP's strategy and service portfolio. We are delighted to announce that the Forum will conclude with a site visit to the Frameclad factory. This will provide an insight into the manufacturing process of light gauge steel frame offsite panel systems and we hope that many of you will take advantage of the opportunity to visit the plant.
Programme:
10.30 – 11.00 Registration and networking
11.00 – 11.05 Welcome and Introduction
11.05 – 11.20 Overview of the MMC market and future view – Mark Farmer, CEO Cast Consultancy and MMC Champion
11.20 – 11.30 BLP Strategy and service portfolio – Jeff Maxted, Director BLP
11.30 – 12.00 Proposed development of BOPAS – Bernie Woods, Schemes Lead Lloyd's Register
12.00 – 13.00 Feedback and discussion – Chaired by – Bernie Woods/ Jeff Maxted
13.00 – 13.30 Lunch/ continued discussion/networking
13.30 – 13.45 BOPAS accreditation award ceremony
13.45 – 14.00 Travel to Frameclad factory
14.00 – 15.00 Tour of Frameclad