United Utilities
Company: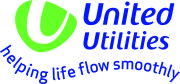 United Utilities is the North-West's water company. We keep the taps flowing and toilets flushing for 7 million customers every day. From Crewe to Carlisle, we work hard behind the scenes to help your life flow smoothly.
We hold a licence to provide water and sewage services in north-west England. These services are carefully regulated – with the water regulator Ofwat reviewing our price limits every five years. We delivered significant performance improvements across this period and intend to continue this improvement. We are one of the most improved companies on customer satisfaction, and our serviceability and environmental performance places us amongst the leaders in our sector. We are also delivering on our ambitious cost saving targets.
As a FTSE 100 company with a 5,000 plus strong workforce and a major, multi-billion pound investment programme, the way we act as a business has a profound influence on the social, economic and environmental well-being of our region.
Our programme of investment in the next 5 years is over £3billion. For us to continue to improve for our customers, we must rely on leveraging skills and capacity from supply chain partnerships, innovative solutions and delivering more for less. This includes our commitment to offsite build solutions.
We are a Partner of the Offsite School, and we encourage our strategic supply chain Partners to develop modular and offsite solutions. We also work with others across the water industry to develop standard products.
For more information, please contact Head of Innovation Kieran Brocklebank. Kieran.Brocklebank@uuplc.co.uk