KFC
Company: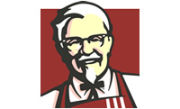 KFC, the world's largest chain of chicken-based quick service restaurants, grew from the chicken business set up by Colonel Harland D Sanders in the 1950s. The Colonel had found a way to combine 11 herbs and spices with flour to create a unique taste, and to this day the secret recipe is only known to a handful of people. It is locked away in a vault in Louisville, Kentucky.
KFC came to Britain in 1965, with the first store opening in Preston, Lancashire. There are now 840 stores across the UK, with 23,000 employees. KFC has a mix of company and franchisee-owned stores in the UK and Ireland, however the business operates a 'one system' approach, with both given the same high level of training and support to ensure excellent service across the board.
The company's objective is to be the UK and Ireland's favourite quick service restaurant brand, through great tasting food, friendly and efficient service, motivated employees, excellent facilities and successful franchisees.
We are opening over 40 new restaurants every year and have a significant remodelling programme of over 150. We are committed to providing environmentally friendly buildings through construction and fit out, and recently opened our first LEED and BREEAM certified Drive Thru.
KFC UK, Inc is a subsidiary of Yum! Brands, Inc. (NYSE:YUM), which also owns the Pizza Hut and Taco Bell restaurants.