Construction Specialties
Company: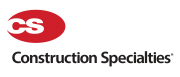 Based in Buckinghamshire, Construction Specialties UK Ltd (CS) is part of a global, family-owned building products company, found in the US in 1948.
We work closely with architects, designers, building owners, facility managers and contractors, to provide solutions to complex building problems faced every day.
Our commitment to 'making buildings better', along with our culture of creative thinking and customer collaboration, has led to many breakthroughs and innovative solutions. We currently hold over 40 product patents worldwide.
CS' high quality, reliable products are designed to extend the lifecycle of a building's fabric, reduce maintenance costs, and reduce operational costs of facilities, across a wide range of market sectors.
We are leading manufacturers of interior wall protection, impact-resistant doorsets, performance coatings, entrance flooring, expansion joint covers, architectural louvers, solar shading and explosion venting.
Our most recent product developments are also ideally suited to off-site manufacturing:
CS Multiwall – a modular flat pack serviced wall system, providing configuration flexibility to suit project requirements. Manufactured in a controlled factory setting for consistent quality and finish, Multiwall ensures fast and clean installation; reducing time on site, minimising disruption and saving money.
CS Joint System for Precast Concrete Facades – a durable, reliable and maintenance free solution to the problem of water ingress, condensation and expansion in precast concrete buildings. Designed to be included in the pre-fabrication process, it is fast and easy to install.
CS Rapid Fix – a mounting system enabling fast and easy installation of wall protection systems.
For more information about CS products and solutions, please visit: www.c-sgroup.co.uk