Construction Innovation Hub
Company: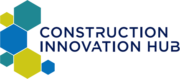 Buildings and infrastructure are critical to society: housing, commerce, industry, transport,
energy and public services. Construction is one of the largest sectors in the UK economy, representing roughly 9% of GDP and employing around 10% of the UK workforce. The construction sector has a vast impact on communities across the UK, affecting the life of every person in Britain.
Despite this, the way we create buildings is outdated. If cars were hand-built to order using bespoke designs and different supply chains every time, it is easy to imagine how costs would rise and quality would vary widely with increased running costs and safety & environmental risks. This is what happens in construction: the sector is less productive than the economy as a whole; the focus on project build cost means we do not get the best value for users, society and, in the long term, the economy.
The problem is real and urgent. Looking at the £650 billion pipeline of critical infrastructure and construction investment to 2025, at current levels of output the country is between 20-25% short of supply chain capacity to deliver this.
The sector needs to transform the way buildings are designed, manufactured, integrated and connected within the built environment to create high performing assets using digital and advanced manufacturing.
The Construction Innovation Hub will enable a structural change programme to deliver this transformation through an evidence based and demonstrated set of activities, including a complete understanding of the marketing opportunities, a set of tools for industry to enable a step change in productivity, and fully relevant and proportionate standards.