20 - 21 November 2018 , ExCeL London, Royal Victoria Dock, 1 Western Gateway, London E16 1XL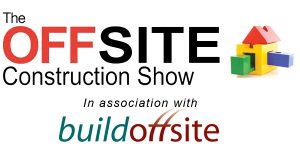 Doors open: 09:30
Event Start: 20th November 2018 09:30
Event Close : 21st November 2018 16:00
Registration for Buildoffsite Programme: Day 1 and Day 2.
PROGRAMME OF EVENTS TWO DAY TIMETABLE
Registration for The OFFSITE Construction Show please visit http://offsiteconstructionshow.co.uk/contact/
The Offsite Construction Show is being held at ExCeL London on Tuesday 20 and Wednesday 21 November.
Visitors will see over 80 leading companies showing the very latest offsite products, solutions and technologies. This year, we welcome a great group of new exhibitors, including Lindapter, Sikla, Brit Lift,Framecad, City Lifting, Lucideon, coBuilder, Istidama, Proctor Group,
Nationwide Windows and Doors, Hants County Council, C-Probe Systems, Carnehill Contracting, Wago, Dutypoint, Ideal Standard, BRE, William Attwell Associates, Ecco Modular, O'Carroll Engineering, IPP MagPly and Emtec Products.
This is a specialist event dedicated to the #offsite industry. Attracting high calibre professionals with busy schedules, who can spend a few hours having meaningful discussions or attending one or seminars, workshops or new "in conversation with…" covered across our exclusive two day programme.
This year, we have assembled a really good mix of well-known offsite industry movers & shakers to headline our 2 day programme of events alongside an ever-growing selection of new exhibitors.
Visit the Buildoffsite stand area in Hall N4 of ExCeL London.
Buildoffsite stand (C29) and the three areas being used to put on Buildoffsite events will be held across the following areas; Seminars [next to Buildoffsite Stand]; Workshops (D23) and Conversations (B25)