Willmott Dixon Ltd
Company: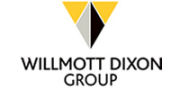 Willmott Dixon Group is one of the UK's largest privately-owned construction, regeneration and support service companies.
In our Capital Works division, we work with government, local authority and private sector clients, delivering capital projects in education, justice, retail, health and social housing. We also deliver interior design and fit-out services.
In our Regen division, we develop high quality residential units for sale often as part of mixed-use projects and, through be:here, are actively involved in developing and managing residential accommodation for the private rental sector.
In Support services, we deliver a range of planned, preventative and responsive care to property, which includes maintaining over 180,000 homes across the UK and providing a fast efficient service to a number of commercial brands. We are also an official Green Deal provider and have the in-house expertise to improve energy efficiency for private residents and corporate property owners alike.