University of Salford
Company: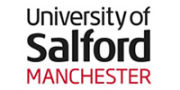 As one of the World's largest schools in the area of built environment and the UK's premier location for studying undergraduate and postgraduate degrees. SoBE has 1862 undergraduate, postgraduate taught and postgraduate research students from more than 100 countries. Our innovative education programmes have been designed to address the needs of our sector today and in the future. We achieve this by integrating the whole value chain of the disciplines within the built environment and by incorporating stateof-the-art knowledge into our curriculum. SoBE's built environment research was ranked 6*, the highest grade in the UK's competitive Research Assessment Exercise (RAE) in 2001 and 1996, the only research institute in the UK to achieve this. In the 2008 RAE it was rated as the best in the UK and finished top in Research Fortnight's 'Research Power' table for built environment, a position we have held, consecutively, in the last 20 years.
The School represents a community of Scholars of global reach, working in unison with learners across HNC, Undergraduate, Postgraduate Taught and Research, and Lifelong Learning professionals and organisations committed in making a difference in the sector we love. With very high employability successes and one of the largest global cohorts of PhD students, many of our graduates are already making a difference in our industry and also in academia by holding leadership positions in a variety of organisations and academic institutions across the world.
SoBE has a strong research background in offsite construction and was the first school of the built environment in the world to introduce a Masters programme in offsite construction under the leadership of Prof Mohammed Arif. At the moment, the focus of research in offsite is on applications in low cost housing applications and incorporation of BIM into offsite planning.