Sir Robert McAlpine
Company: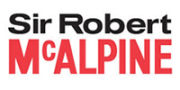 Sir Robert McAlpine Ltd is a leading UK building and civil engineering company. A family-owned business with a proud record of achievement accumulated over more than 140 years, the company's pioneering approach to construction and commitment to service have ensured its continued position at the forefront of the industry.
We work in partnership with clients, tailoring our extensive design, construction, technical and management capabilities to meet their evolving needs.
With a stable presence across all the major UK construction market sectors, one of our main strengths is the ability to manage large and complex multi-discipline contracts.
The company employs 1,500 staff with offices in Glasgow, Edinburgh, Newcastle, Leeds, Manchester, Birmingham, Hemel Hempstead, Bristol, Cardiff and London.
Recent projects include the Olympic Stadium, the O2 Arena, the M74 Completion, Exeter Forum, Manchester Metropolitan University's Business School and Student Hub, and De Vere Gardens in Kensington.
Our ongoing success is underpinned by our corporate stability, the quality and expertise of our staff, a collaborative approach to business and our skill at providing sustainable and cost-effective solutions to construction challenges.