HSE
Company: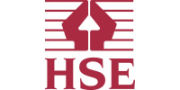 The Health and Safety Executive is responsible for health and safety regulation in Great Britain. The HSE and local government are the enforcing authorities. Our mission is to protect peoples' health and safety by ensuring risks in the workplace are properly controlled.
The HSE looks after health and safety in many sectors including nuclear installations, quarries and mines, factories, agriculture and farming, hospitals and schools, offshore gas and oil installations, the safety of the gas grid, and the movement of dangerous goods and substances, and many other aspects of the protection both of workers and the public.
Local authorities are responsible for enforcement in offices, shops and other parts of the services sector.
The HSE is part of the Department of Work and Pensions and is ultimately accountable to Chris Grayling (Department of Work and Pensions).
HSE is a Associate Member of Buildoffsite