GRAHAM Construction
Company: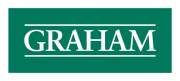 With records that trace back to 1798, the GRAHAM Group represents a nationwide business providing construction (both building and civil engineering), asset management and project investment services through a network of local regional offices. Our construction arm operates across a wide spectrum of sectors including education, healthcare, leisure, heritage, transport, defence, nuclear, water and wastewater, renewables and interior fitout.
The business was incorporated as a limited company in 1955 and since then has successfully completed numerous landmark projects and commissions across the UK and Ireland. Whilst remaining a wholly family owned company, steeped in traditional skills and values we operate a business model designed to achieve excellence in delivery, customer service and a 'true' value for money offering.
With over 1500 colleagues and a track record of sustained growth during the past number of years (with turnover rising from approx. £40m in 1996 to over £380m 2014), we are extremely proud to be ranked among some of the largest construction and service businesses in UK and Ireland.
We believe our continued success is a direct result of doing things the 'GRAHAM way', ie keeping business simple, listening to our clients, being efficient and effective in all that we do, keeping our people safe, remaining committed to the protection of our environment, and working with local communities and businesses to generate long lasting and sustainable economic benefits.
We see the continued and growing focus on off-site manufactured construction as vital to the healthy growth of both our business and the industry as a whole and look forward to having our thinking challenged through Buildoffsite and developing long term business relationships with other members.