B&K Structures
Company: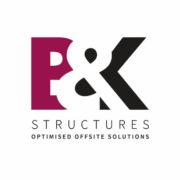 B&K Structures are the UK's leading sustainable structural frame contractor, we specialise in the design and construction of Sustainable Structures and have created ground-breaking multi-award winning structures with outstanding green credentials for some of the UK's largest clients and construction  companies.
We are committed to sustainable construction and will always adopt a timber first approach, we are PEFC & FSC accredited, thus ensuring all materials are from a legal and sustainable source.  We design structures based on an extensive portfolio of off-site modular products, our core product is CLT (Cross Laminated Timber) which is 80% lighter than concrete, typically a timber superstructure provides for an efficient and lightweight substructure design, thus enabling significant cost and programme benefits.
Whilst CLT will remain a core product and pivotal in the global pursuit of zero carbon construction, we are not married to one product, other products are utilised to suit the specific design requirements, in essence a hybrid of the most efficient and cost effective products, thus providing for programme, cost and environmental benefits.
Working across all sectors B&K Structures have constructed some of the UK's most iconic timber hybrid structures, our unique design solutions are born out of 48 years of construction experience and key partnerships created throughout our supply chain which has enabled the business to deliver high-profile projects. Whatever the project, B&K Structures can provide a tailored solution, utilising CLT (Cross Laminated Timber), Glulam, Structural Cassettes or Structural Steelwork in a hybrid solution – please see – www.bkstructures.co.uk for project portfolio.
Contacts:
Andy Goodwin – Managing Director – a.goodwin@bkstructures.co.uk
Lee Roberts – Bid Manager – l.roberts@bkstructures.co.uk