Aquatherm
Company: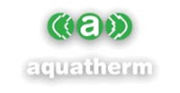 Aquatherm Sales UK is a wholly owned subsidiary of The Ormandy Group of Companies and is the UK provider of the Aquatherm GmbH range of products. Thirty-five years of constant product development have seen Aquatherm maintain a market leading position for producing the most advanced and environmentally innovative plastic piping systems for the building service(s), and process industries.
The range consists of Aquatherm pressure piping systems, underfloor heating solutions, fire sprinkler system, fire stop, and our exclusive wall/ceiling heating and chilled water system, Climasystem, providing a highly efficient low energy thermal barrier to every kind of building.
Aquatherm's polypropylene piping system is considered to be the most environmentally friendly on the market. Polypropylene is a chemically inert material, creating minimal pollutants, and takes less energy to produce, install and run than traditional materials. It is also fully recyclable.